January 2022's most anticipated young adult books feature teens changing the past, autopsying corpses, and balancing their human and magical selves.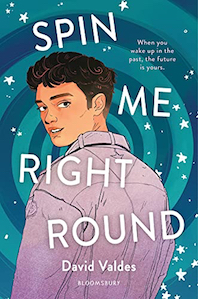 Spin Me Right Round by David Valdes
Type: Novel
Publisher: Bloomsbury YA
Release date: Jan. 4
Den of Geek says: This modern take on Back to the Future examines what has changed—and what unfortunately hasn't—for today's generation of LGBTQ teens.
Publisher's summary: From lauded writer David Valdes, a sharp and funny YA novel that's Back to the Future with a twist, as a gay teen travels back to his parents' era to save a closeted classmate's life.
All Luis Gonzalez wants is to go to prom with his boyfriend, something his "progressive" school still doesn't allow. Not after what happened with Chaz Wilson. But that was ages ago, when Luis's parents were in high school; it would never happen today, right? He's determined to find a way to give his LGBTQ friends the respect they deserve (while also not risking his chance to be prom king, just saying…).
When a hit on the head knocks him back in time to 1985 and he meets the doomed young Chaz himself, Luis concocts a new plan—he's going to give this guy his first real kiss. Though it turns out a conservative school in the '80s isn't the safest place to be a gay kid. Especially with homophobes running the campus, including Gordo (aka Luis's estranged father). Luis is in over his head, trying not to make things worse—and hoping he makes it back to present day at all.
In a story that's fresh, intersectional, and wickedly funny, David Valdes introduces a big-mouthed, big-hearted queer character that readers won't soon forget.
Buy Spin Me Right Round by David Valdes.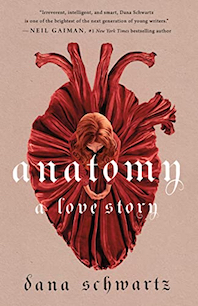 Anatomy: A Love Story by Dana Schwartz
Type: Novel
Publisher: Wednesday Books
Release date: Jan. 18
Den of Geek says: And We're Off author Dana Schwartz's latest is a gothic mystery (and, yes, romance) set in an alternate-history Edinburgh plagued by familiar sexism.
Publisher's summary: Hazel Sinnett is a lady who wants to be a surgeon more than she wants to marry.
Jack Currer is a resurrection man who's just trying to survive in a city where it's too easy to die.
When the two of them have a chance encounter outside the Edinburgh Anatomist's Society, Hazel thinks nothing of it at first. But after she gets kicked out of renowned surgeon Dr. Beecham's lectures for being the wrong gender, she realizes that her new acquaintance might be more helpful than she first thought. Because Hazel has made a deal with Dr. Beecham: if she can pass the medical examination on her own, Beecham will allow her to continue her medical career. Without official lessons, though, Hazel will need more than just her books—she'll need corpses to study.
Lucky that she's made the acquaintance of someone who digs them up for a living.
But Jack has his own problems: strange men have been seen skulking around cemeteries, his friends are disappearing off the streets, and the dreaded Roman Fever, which wiped out thousands a few years ago, is back with a vengeance. Nobody important cares—until Hazel.
Now, Hazel and Jack must work together to uncover the secrets buried not just in unmarked graves, but in the very heart of Edinburgh society.
Buy Anatomy: A Love Story by Dana Schwartz.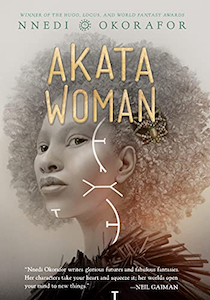 Akata Woman by Nnedi Okorafor
Type: Novel
Publisher: Viking Books for Young Readers
Release date: Jan. 18
Den of Geek says: Sunny Nwazue's magical coming-of-age continues with a world-saving quest in the third installment of Nnedi Okorafor's Nigerian folklore-inspired The Nsibidi Scripts.
Publisher's summary: The electrifying third book in the series that started with Akata Witch, named one of Time magazine's "100 Best Fantasy Books of All Time" and "100 Best YA Books of All Time," from award-winning author Nnedi Okorafor.
From the moment Sunny Nwazue discovered she had mystical energy flowing in her blood, she sought to understand and control her powers. Throughout her adventures in Akata Witch and Akata Warrior, she had to navigate the balance between nearly everything in her life—America and Nigeria, the "normal" world and the one infused with juju, human and spirit, good daughter and powerful Leopard Person.
Now, those hard lessons and abilities are put to the test in a quest so dangerous and fantastical, it would be madness to go… but may destroy the world if she does not. With the help of her friends, Sunny embarks on a mission to find a precious object hidden deep in an otherworldly realm. Defeating the guardians of the prize will take more from Sunny than she has to give, and triumph will mean she will be forever changed.